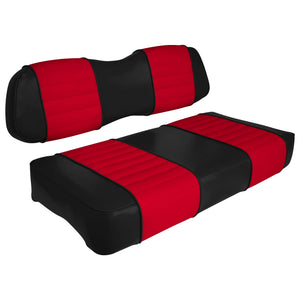 IN STOCK | READY TO SHIP - Club Car DS Series (2000-2013) Golf Cart Front Seat Complete Set: Designer Sewn - Black & Red
Regular price $ 329.99 Sale
Single overstock in available to ship in 2-3 business days!
DESCRIPTION:
Our DS Series seat cushions come assembled with vinyl cover, foam, and plywood substrate using Marine-grade materials. Our foam is covered with a thin moisture barrier to prevent common problems from weather exposure like mildew, mold, and rot.
Our plywood substrate has an alignment of T-nut fittings that is fully compatible with your existing DS Series hardware.
Back rest includes a fitted panel of black vinyl to mask and protect it's plywood base (ABS Back Cap not available)
FEATURES:
1/2" stitch quilted accent panels provide extra cushioning
Welt cord piping enhances appearance and improves seam-line durability