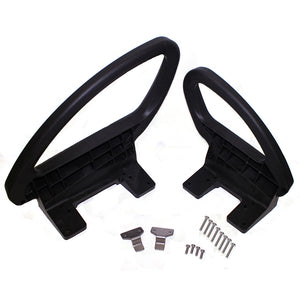 Club Car Precedent (04-11) Conversion Kit (for Torino Style Seats)
Regular price $ 154.99 Sale
Until now, our exclusive Torino style seats were only available for the "2012 and up" model Club Car Precedent golf cart. Now customers with the older model Precedent can enjoy these seats with our new Club Car Precedent (04-11) Conversion Kit. This kit allows you to easily mount our Torino or Collegiate style seats (required for bottom cushion only) to your (04-11) Precedent cart.  Kit includes the following components:
Driver's Side Hip Restraint (OEM part # 1038336-01)
Passenger Side Hip Restraint (OEM part # 1038337-01)
(8) Hip Restraint Mounting Screws
(2) Seat Hinges (OEM part # 1038329-01)
(4) Hinge Mounting Screws
Simply line up each component to the T-nut inserts on our plywood substrate and secure into place with the included mounting screws. Remove your existing bottom seat cushion and replace with your brand new seat!